A chemical solution: Chemical sector supply chains must keep pace with evolving sustainability regulation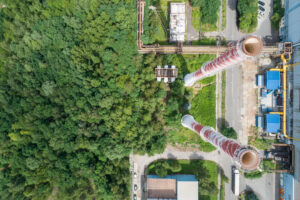 Gabriele Unger, General Manager at Together for Sustainability (TfS), discusses how TfS' Assessments and Audits are helping companies in the chemical supply chain keep pace with evolving sustainability regulations.
Introduction
Companies in the chemical supply chain are increasing their efforts and facing growing pressure to adhere to higher sustainability standards and navigate complex regulatory requirements. This article explores the vital role played by Together for Sustainability (TfS) in helping companies within the chemical industry not just to comply with evolving sustainability regulations, but also excel in this era of increased environmental awareness.
Navigating the new regulatory landscape
The European Union's Corporate Sustainability Reporting Directive (CSRD) and the associated ESG Sustainability Reporting Standards (ESRS) have emerged as prominent pillars of sustainability regulation. These directives aim to enhance transparency, accountability and comparability of sustainability information disclosed by companies. Additionally, the EU's Directive on Corporate Sustainability Due Diligence Directive (CSDDD), which got the green light from the European Parliament in June 2023, further underscores the importance of responsible business conduct, addressing environmental, labour and human rights concerns.
Beyond the EU, regulations in the United States, such as those under consideration by the Securities and Exchange Commission (SEC), are also ramping up. The proposed new rules, which are due to be announced this month, will require companies to include certain climate-related disclosures in initial filings and annual financial reports.
The implications of these new regulations for chemical supply chains are multifaceted. They require companies to assess and report on their environmental impact, labour and human rights practices, ethical conduct and sustainable procurement performance. Achieving compliance with these regulations can prove challenging for chemical companies, given the complex nature of their operations, the variety of products from paint to plastics, and the global nature of their supply chains.
Assessments and Audits: a chemical solution to sustainability reporting
TfS is a global initiative that focuses on assessing and improving sustainability practices within chemical supply chains. TfS' Assessments and Audits play a pivotal role in this mission, offering a structured approach to measure the environmental, labour and human rights, ethical and sustainable procurement performance of suppliers.
TfS Assessments involve suppliers completing an online questionnaire, supplemented by supporting documents on their environmental, social, ethical and supply chain practices. This data is evaluated, and external stakeholders' perspectives are considered through a "360° watch" covering publicly available information from multiple sources. The resulting assessment scorecard is accessible to all TfS members on consent of the supplier and can also be shared with non-TfS buyers. TfS partners with EcoVadis, one of the world's largest providers of sustainability ratings, to perform these sustainability assessments and continuously enhance the quality and depth of these assessments.
TfS Audits provide a more detailed, factory-based examination of sustainability practices at the supplier level. Conducted by approved external auditors, these audits verify sustainability performance against defined criteria covering management, environment, health and safety, labour and human rights, and governance issues. Analogue to assessments, suppliers are offered the opportunity to share the results with all TfS members as well as other customers, ensuring transparency and accountability. Audits are performed by TfS-approved auditors with expertise in sustainability practices.
How do TfS' Assessments and Audits help chemical companies navigate new regulation?
Standardised assessment and audit criteria: TfS uses a common sustainability assessment developed by EcoVadis and the TfS audit framework that helps TfS member companies comply with existing regulations and industry best practices, including CSRD and CSDDD. By adhering to this standardised approach via TfS, companies can ensure that their sustainability practices remain relevant and compliant with regulatory requirements. This streamlines the assessment and audit process, reducing duplication of efforts and ensuring consistency.
Enhancing transparency: TfS promotes transparency in supply chains by encouraging suppliers to share information about their sustainability practices and progress on improvements. This transparency benefits both suppliers, who can showcase their sustainability efforts, and member companies, who are equipped with reliable data on their suppliers' environmental, social and governance performance. Greater transparency fosters trust and collaboration among supply chain partners.
TfS action priorities dashboard: In the summer of 2022, TfS launched the Action Priorities Dashboard in collaboration with EcoVadis. This innovative tool, powered by Tableau software, enables TfS member companies to proactively identify emerging risks within their supplier pool. It also allows TfS to detect common challenges across the network. The dashboard focuses right now on critical issues such as child labour, forced labour, human trafficking, corruption, as well as Scope 1 and 2 energy consumption and GHG emissions from suppliers. These topics can be analysed at both macro and individual supplier levels, providing valuable insights for risk mitigation. Further on, different focus topics can be selected based on TfS members' needs.
Corrective action plans (CAPs): Both TfS Assessments and Audits result in the development of corrective action plans. These plans offer actionable steps for the assessed and audited companies to address identified issues. As with the results of assessments and audits, the CAPs are also shared and allow TfS member companies to address the pending issues with their suppliers, thus making tangible improvements in their supply chains. CAPs serve as a roadmap for continuous improvement, ensuring that sustainability challenges and measures for improvement are transparent and are actively addressed.
TfS Academy: The TfS Academy is another valuable resource that supports suppliers and TfS members in enhancing their sustainability knowledge. This educational platform equips suppliers with knowledge and tools to address specific sustainability aspects, ultimately contributing to better overall performance.
Creating a more sustainable chemical sector demands engagement from every stakeholder working in chemical supply chains. Members of TfS encourage their suppliers to be assessed and/or audited and to work on the resulting CAP to gauge – and most of all to improve – their sustainability performance.
Karen Mercier, Corporate Director Purchasing – Responsible Sourcing, and TfS Coordinator for Henkel, said:
"Regulatory requirements and environmental standards are evolving and rapidly increasing the importance of direct insights into our suppliers' sustainability performance. The TfS Audit is a critical element for providing this transparency. The audits conducted at our suppliers' sites are professional assessments that include specific recommendations for improvement in areas such as management, environment, and labour/human rights. The TFS audits are one key enabler for us to ensure our suppliers' standards meet Henkel's and our customers' expectations".
Morné Labuschagne, Head of Sustainability & Governance at LANXESS and the Co-Chair of TfS' Governance & Partnership workstream, said:
"To ensure our operations align with sustainability regulations, we use TfS' Assessments and Reassessments to uphold ethical, environmentally responsible and socially accountable practices across our entire value chain. Using assessments as a cornerstone, we scrutinise suppliers categorised as high, medium or low risk under the Supply Chain Due Diligence Act. Notably, the ability to craft Corrective Action Plans proves invaluable, fostering ongoing improvements and serving as a crucial dialogue catalyst with our suppliers."
A formula for best practice reporting
As regulatory changes in the sustainability landscape continue to evolve swiftly, TfS' Assessments and Audits offer a structured, standardised and transparent approach to help companies in the chemical supply chains navigate and master this complex challenge.
By engaging chemical suppliers in sustainability assessments and audits, TfS member companies can identify potential risks related to non-compliance with changing regulations and work with their suppliers to address these issues. In an era where sustainability is integral to business success, TfS' initiatives play a crucial role in ensuring that chemical supply chains become more sustainable, resilient and aligned with global regulatory expectations.
To find out more, visit the TfS website here.