Interview with Dr Stephen Blackburn, Synthomer
We see the new PCF Guideline as an important step forward for our industry. It will provide better data insights into our upstream Scope 3 emissions, enabling us to make better sourcing decisions and identify key supply partners for the future.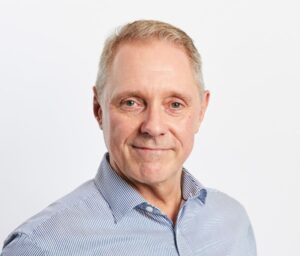 Synthomer joined Together for Sustainability in February 2023. TfS interviewed Dr Stephen Blackburn, Synthomer's CPO & Vice President Group Procurement. The interview below summarises his views on sustainable supply chain, sustainable procurement and his expectations regarding TfS membership. Mr Blackburn also discusses the challenges and opportunities the TfS Product Carbon Guideline presents for his organisation. Enjoy reading.
Q: Briefly describe your company and position 
I am the Vice President/CPO for Group Procurement with a global team of approximately 110 FTE's. We manage the procurement of all third party spend: raw materials, goods and services across our business. Synthomer is a specialty chemical company and a leading supplier of water-based and differentiated polymers with revenues of £2.3bn. It is listed on the London stock exchange and headquartered in London (UK). The company has an international footprint across 19 countries with 37 manufacturing sites and 4 Centres of Excellence located in Europe, North America and Asia.
Q:  What is your approach to sustainable supply chain, sustainable procurement?
Synthomer's sustainability agenda has gained momentum in recent years and today is at the heart of everything we do, how we work, think, operate and innovate.
We have made a public commitment to reach net zero by 2050, in line with the Paris Agreements. Our Vision 2030 goals include ambitious targets in multiple areas of  ESG and sustainability. We have a sustainable procurement policy and strategy with KPIs aligned to these goals, including annual targets within a five-year plan.
But we want to go even further – we are currently rolling out a scope 3 sustainability training, for  our global procurement teams. So sustainability truly becomes part of our everyday thinking and embedded in all procurement processes. Our procurement team will be able to speak with authority and lead the sustainability agenda with all stakeholders, both internally and externally.
Q: What does your company expect to gain from the TfS membership, how do you see the mid-to long term benefits from TfS membership? 
Many of the sustainability challenges are shared across our sector and are unlikely to be solved by individual companies. Through our membership, we hope to access and influence  standards and guidelines that will deliver changes and improvements more quickly and efficiently, for example using sustainability assessments for our suppliers. We are keen on participating and contributing to TfS and the development of solutions.
We look forward to adopting the TfS audit and assessment standards, so we become more effective and efficient in this.  We have started the process of asking for scope 3 data from our priority suppliers to understand where to focus our efforts and resources going forward to have the greatest impact on scope 3 reduction. Of course, we ourselves represent the upstream emissions for our own customers and end users, and we expect that TfS membership will help us make better lifecycle assessments of our products' role within that wider value chain.
Q: Taken the TfS approach into account, what do you hope to achieve in your network of partners?
We would like to be seen as active participants and leaders in sustainability by our peers, suppliers and partners. We hope to learn as a company and in particular we want our procurement team to become more knowledgeable and able to speak with authority on our sustainability challenges and solutions.
Q: In September 2022, TfS launched the Product Carbon Footprint Guideline. How will you implement the PCF Guideline into your organisation? What are the challenges and opportunities? 
We have already started engaging some of our most material GHG suppliers to understand both their organisational and product carbon footprint as we move from generic data sources to primary sources. We see the new PCF Guideline as an important step forward for our industry. It will provide better data insights into our upstream Scope 3 emissions, enabling us to make better sourcing decisions and identify key supply partners for the future. Our challenge is to support our suppliers to be able to provide the data and for us to validate and track this data through our supply chains and be credible in our decisions for our commercial teams / customers.
Q: Where do you see your company contributing to the TfS initiative, also take your sustainability expertise into account?
We would like to contribute to the Supplier Sustainability Audit and Product Carbon Footprint initiatives. Once we know and understand the full TfS programme, we will evaluate where we can add or gain value by being involved and contributing accordingly. For example, by leveraging our knowledge of identifying priority suppliers under ESG risk lenses and working with those suppliers to improve on reaching sustainability targets.
Q: Any closing remarks?
We recently refreshed our entire corporate strategy, recognising that renewed focus on our end users, on innovation and on sustainability are key to our future success. As such we are at the start of the next phase of Synthomer's journey, where we will work together with our industry peers to help bring about a more sustainable future for ourselves, our stakeholders and the world.