TfS interviews Kris Moors of Yara International
We trust that our TfS membership will support us to get a better understanding on how to efficiently and successfully implement sustainable procurement to support our work on Scope 3 Upstream.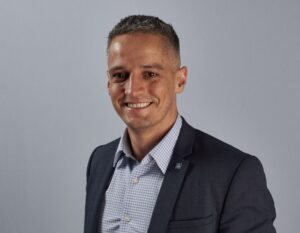 Yara joined Together for Sustainability last February. TfS had the pleasure of interviewing Kris Moor, Yara's SVP Indirect Procurement. In the interview, Kris Moor shares his thoughts on a sustainable supply chain and sustainable procurement approach, how TfS will help Yara to achieve its company's sustainability targets, how Yara expects to contribute to the progress of the TfS initiative and the challenges and opportunities of implementing the TfS PCF Guideline in his organisation.
Q: Can you briefly describe your company and your position?
Yara International ASA is the world's leading crop nutrition company and a provider of environmental and agricultural solutions. As a Norwegian company with a strong global presence, we have operations in over 60 countries, sales in 160 countries and around 17.500 employees.
My current position is SVP Indirect Procurement, while at the same time I am responsible for our global Procurement Strategy, called LEAP. This consists of six workstreams, covering both Direct and Indirect Procurement and whereby "Sustainable Value Delivery" is a workstream which is closely linked to our membership in TfS.
I am Belgian and living in Oslo since 2021 after living for 5 years in Sao Paulo. I've worked in Procurement nearly my entire career, most of the time in Direct Procurement covering several regions.
Q: What is your approach to sustainable supply chains, sustainable procurement?
Yara is committed to becoming climate neutral by 2050, and collaboration with our customers and suppliers is key to this end. We are not able to solve the global challenges in isolation, and the whole value chain must collaborate to improve. This means that we work closely together with other value chain players, including our own suppliers, to meet our sustainability goals.
We embedded sustainability into all business functions, and Procurement plays a key role in establishing a clear and transparent link with our supply chain partners. Our suppliers are our recognised business partners and are vital to Yara's success. To deliver on our ambition of Growing a Nature-Positive Food Future, our suppliers must not only strive for the same sustainable value creation, but also require the same from their own business partners.
For this reason, sustainability is at the forefront of our Procurement Strategy, LEAP. We still have to learn a lot but have achieved some significant milestones quickly. As a highlight, we launched Yara's sustainable procurement policy in June 2022, in which we mention our ambition of having 80% of our spending covered by Ecovadis assessments and that we aim at having the rating of our suppliers to improve year by year.
We are now working hard to roll out a sustainable procurement program, and we recently launched a Scope 3 Supply Chain Project. Our TfS membership is the next step in the right direction.
Q: How will TfS membership help you reach your corporate sustainability targets? What do you see as the mid-to long term benefits from TfS membership?
Yara works towards a nature positive food future, but that is not possible without collaboration. Even though we have been working for a long time already on the reduction of Scope 1 and 2 emissions, Scope 3 Upstream is still a relatively new element in our corporate sustainability journey. We trust that our TfS membership will support us to get a better understanding on how to efficiently and successfully implement sustainable procurement to support our work on Scope 3 Upstream.
Let's not forget it is not only about emissions. Other sustainability topics such as a diverse supply chain in which respect for human rights is non-negotiable, are also high on our priority list. We know many TfS members are also working hard on this topic, so we look forward to sharing our challenges and successes and developing with them.
Q: Taken the TfS approach into account, what do you hope to achieve in your network of partners?
First of all, we aim to create strong relations with the other members and share our knowledge and learnings with them via the several working groups. We are eager to share our challenges and difficulties and want to cooperate to resolve these with the support and experiences available in the network.
Secondly, Yara is a knowledge company, and we are constantly stimulating our employees to learn and grow. The TfS Academy offers great support to our procurement professionals to become specialists in the field of sustainable procurement.
Finally, we also hope that access to the TfS database of supplier audits, will support us in having a better view on the sustainability of our supply base. At the same time, by sharing our sustainability related info on our suppliers, we hope we can support other TfS members to jointly create a better supply chain.
Q: Last year TfS launched the new Product Carbon Footprint Guideline to decarbonize chemical supply chains. How will Yara implement this Guideline in its organization and with its suppliers? What are the anticipated challenges and opportunities associated with implementation?
During the last year we made good progress in creating Product Carbon Footprints for our own products. We have the firm believe that following up on Scope 3 GHG-reductions, that are achieved together with our suppliers, requires a detailed knowledge of our own supply chain and can only be based on PCF's from goods and services we purchase.
Collecting reliable and comparable data requires standardisation, supported with IT-solutions to manage the large quantity of data which is in line with the TfS way of working.
Therefore we really welcome the TfS PCF Guideline and we are looking forward to cooperate with TfS and our suppliers to implement it.
Q: TfS is a member-driven initiative: TfS members actively contribute to the TfS initiative, driving it forward and shaping the future of the chemical industry. Where do you see Yara contributing to the TfS initiative, also take the sustainability expertise or your organization into account?
Yara has a long history of creating sustainable solutions. We have halved our own emissions since becoming a listed company in 2004 and will reduce a further 30 percent by 2030. With these successful efforts in combination with our strong global presence we are confident that we have valuable knowledge and experience to offer.
We have a strong presence in regions that may be somewhat under-represented in TfS like Brazil and Latin America, and we have a good track record on implementation of various sustainability topics such as our Safe-by-Choice program, Ethics and Compliance, and Scope 1 + 2 GHG-emissions reductions.
We're also quickly increasing our understanding of the various aspects of producing green and blue ammonia, one of the main base materials in the chemical industry. Collaboration with other stakeholders is key to make this a successful development, both for the future of the chemical industry as for society at large.
 Q: Any closing remarks?
We at Yara work towards creating a world without hunger. That also means a society that is more collaborative, where the earth is respected and businesses work to become Nature-Positive. After careful consideration, it became apparent that TfS´ principles were entirely in line with our own. Based on this, we believe our journey together will be to our mutual benefit.