Together for Sustainability successfully held 2023 Supplier Training Event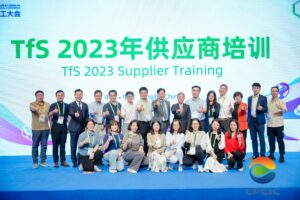 Ningbo, September 21, 2023 – On September 20, Together for Sustainability (TfS), a global initiative that promotes the sustainable development of chemical supply chains, successfully held its 2023 Supplier Training event as part of the 14th China Petroleum and Chemical International Conference (CPCIC), attracting over 200 attendees. In addition to advanced training on online questionnaire assessments and onsite audits, the training event focused on issues related to Scope 3 greenhouse gas (GHG) emissions, including a detailed presentation on Product Carbon Footprint (PCF) calculation and data-sharing solutions.
In his opening , PANG Guanglian, Executive Board Member, Vice Secretary General of China Petroleum and Chemical Industry Federation (CPCIF) and Secretary General of Committee of Multinationals of CPCIF, emphasized the current trends guiding and influencing the chemical industry. Amidst drastic social changes, the chemical industry and other global industries are jointly directing their efforts toward harnessing uncertainty and achieving green recovery. Driven by changes in policy and technology, the main theme for the petrochemical industry will be low-carbon, green, high-end and digital development. Mr. PANG further stated that "due to the complexity of the chemical industry, there are still several difficulties in promoting low-carbon and green development up and down the supply chain. For instance, China's current carbon emissions management still focuses mainly on Scope 1 and Scope 2 emissions. Due to the lack of a detailed and accurate database, the management of Scope 3 emissions requires further efforts".
In order to help the chemical industry better manage its carbon footprint and transform the way upstream carbon emissions are calculated, tracked and reported in the supply chain, TfS officially launched the Chinese version of its Product Carbon Footprint (PCF) Guideline in this May, following the release last September of Chapter 5 of the Guideline. During the training event, members of TfS China Workstream 5 team on Scope 3 GHG emissions delivered a detailed introduction to PCF calculation tools and shared solutions based on the Guideline's core content and practical application. The aim was to enable chemical companies and suppliers to better identify, track, and reduce their Scope 3 emissions, laying the foundations to improve supply chain transparency and sustainable development of the industry.
During the advanced training on TfS Assessments and Audits, guest speakers answered participants' questions about improving sustainability performance in detail, using practical case studies as examples. In 2022, TfS member companies conducted a total of 8,386 assessments and 378 audits of chemical industry suppliers globally, representing an increase of approximately 44% and 93% respectively compared to the previous year. TfS has also significantly enhanced its influence and recognition within China's chemical supply chain. An increasing number of Chinese chemical suppliers are participating in TfS' assessments and audits, accounting for 14% and 52% of the total respectively.
Faced with pressing climate and environmental challenges, TfS continues to expand its global network of member companies. Today, 47 of the world's leading chemical companies have joined the TfS initiative and are working together to continuously promote the efficient operation and integrated development of global chemical supply chains. In his concluding address, Robert YANG, Arkema Procurement Director of North Asia Goods & Services and TfS APAC President in Duty said: "TfS' pioneering PCF Guideline provides indispensable tools and guidelines for carbon governance in the chemical supply chain. The development, optimsation and implementation of the Guideline could not have been possible without the joint efforts of member companies, suppliers, sustainability experts and industry associations. TfS is engaging actively in exchanges and cooperation with industry associations such as CPCIF on Scope 3 emissions calculation. In the future, we look forward to working with more Chinese companies and industry peers to jointly promote the 'green' development of China's petrochemical industry."
###
About Together for Sustainability
Together for Sustainability (TfS) is a global, procurement-driven initiative created by chemical companies with the goal of assessing, auditing and improving the sustainability practices within their global supply chains. The program is based on the UN Global Compact and Responsible Care® principles and has grown into a global organization with regional representation in Asia, North and South America.
 For media inquiries, please contact Sheena Yuan from APCO Worldwide
Email: syuan@apcoworldwide.com
Phone: +86 166 0196 0415