Willem Mutsaerts, Givaudan: The risks and power of supply chain change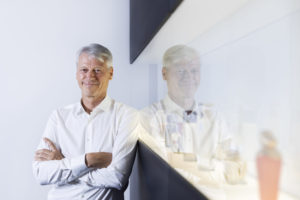 TfS had the opportunity to interview Willem Mutsaerts, Head of Global Procurement and Sustainability at Givaudan. Givaudan joined the TfS initiative in May 2021. The discussion zoomed in on Givaudan's approach to responsible sourcing, sustainable supply chains and the power and benefits of TfS membership.
Willem Mutsaerts brings a positive and powerful message. While global supply chains contribute to significant environmental and social risks, he believes they also have the power to drive significant change. And it is exactly this change which according to Mr Mutsaerts is at the heart of Givaudan's purpose goal to source all materials and services in a way that is good for people and planet. With their Responsible Sourcing programme Sourcing4Good, Willem Mutsaerts is proud of the leadership shown by Givaudan in this area.
Since many businesses face similar challenges regarding sustainability of supply chains, driving change through collaboration is key. TfS presents this powerful opportunity to harness the power of the community through shared experience and insight. Through peer-to-peer network collaboration, TfS members can help shaping the future of the industry.
The following is the transcript of Willem Mutsaerts' interview.
Q: Briefly describe your company and position
Givaudan, a global leading company in taste and wellbeing, and fragrance and beauty, joined TfS in May of this year. Our company has a long heritage stretching back over 250 years, a long history of innovating scents and tastes. As a company, we are committed to driving purpose-led, long-term growth while leading the way to improve happiness and health for people and nature.
As Head of Global Procurement and Sustainability, I am responsible for driving Givaudan's global procurement strategy and sustainability approach. Sustainability sits at the heart of our business, driven by our purpose; Creating for happier, healthier lives with love for nature. Let's imagine together; and by our 2025 strategy; 'Committed to growth with purpose'.
Q: Can you describe what becoming a member of TfS means to you and Givaudan?
We're proud to join this community. Collaboration is essential in delivering on our bold purpose and sustainability ambitions and a transparent dialogue with our suppliers is vital to ensuring the long-term sustainability of our supply chain. The additional knowledge and insight our TfS membership will bring will be invaluable in helping ensure we can continue to accelerate our progress as we grow together with our customers and suppliers.
Q: So, what is your view on sustainability in supply chains globally?
While global supply chains can contribute to significant risks, from an environmental and social perspective, conversely, they have the power to drive significant change. Unlocking this change is at the heart of our purpose goal to source all materials and services in a way that is good for people and planet by 2030.
Q: Can you tell us something more about Givaudan's approach to sustainable supply chains, sustainable procurement?
For us, it is all about driving sustainable best practice across the entire operation and embedding it within our global supply chain for direct and indirect materials and services.
For example, by 2030, we will have cut carbon emissions across all of our operations by 70%, supply chain emissions by 20%, replacing single-use plastics with eco-friendly alternatives across our sites and operations. By 2050 we will be a climate positive business.
As we continue to deliver on our ambitious goal to source all materials and services in a way that protects people and the environment by 2030, our Sourcing4Good is an important step-change in our approach. It is strongly tied to our purpose goals and bold ambitions to become a B Corp certified company in the years to come. As the first in the industry to have a published Responsible Sourcing policy, we have always shown leadership in this area.
Q: Givaudan is a relatively small, less complex, more agile organization versus some of the older TfS member companies. In which way, if any, does this affect your approach to sustainable supply chain?
When it comes to the sustainability of supply chains, many businesses face similar challenges, irrespective of size and set-up. What we all have in common is the potential to drive change through insight, collaboration and collective action. That's where our membership of an organisation like TfS is so powerful as it represents a real opportunity to harness the power of community and accelerate progress through shared experience and insight.
Q: What drove you to take the decision to join TfS and why TfS in particular?
We began our discussions with TfS some years ago and the development of our updated responsible sourcing programme, Sourcing4Good, which we officially launched at the end of April, provided a catalyst for our membership.
With Sourcing4Good we have expanded beyond our existing naturals supply chain scope, and we are now bringing into the programme our synthetics and Indirect Materials & Services (IM&S) categories.  Covering these two other supply chains, has provided us with an excellent opportunity to seek to collaborate with the other members of TfS in an official capacity.
Q: What does Givaudan expect to gain from the TfS membership, how does it see the mid-to long term benefits from TfS membership?
Our membership will help accelerate progress on Sourcing4Good; particularly through the established infrastructure for IM&S and synthetics. Through the peer-to-peer network we can be instrumental in helping shape the future of the industry.
There's a huge benefit to our suppliers too who will be freed from the bureaucratic burden of multiple requests and able to focus their efforts and energies on improving their sustainability performance.
Q: Taken the TfS approach into account, what do you hope to achieve in your network of partners?
Whilst our naturals supply chain remains a key focus for our business, the sheer scope, diversity and impact of our synthetics and IM&S categories, in areas such as human rights, working conditions and GHG scope 3 emissions, means we need to make rapid progress.  We aim to understand our suppliers' current sustainability performance and to work with them, and you, to ensure we are making the right improvements together.  Doing this as a member of TfS makes absolute sense, and we are confident the Givaudan team will add value to the organisation.
Q: Which challenges, opportunities do you anticipate while rolling-out TfS in your organization?
We need to ensure our Responsible Sourcing and Procurement teams collaborate and can focus on driving supplier improvements through involvement in, for instance, TfS workstream activity.
A key element of our Sourcing4Good programme is changing our operating model, with Procurement becoming responsible for driving more of the Responsible Sourcing agenda with suppliers. This is both a challenge but also our biggest opportunity as it will allow us to accelerate our programme, and our value to TfS, as we make progress.
Q: TfS is a member-driven initiative: CPO and other professionals of the TfS member companies drive the initiative forward and shape the future of the chemical industry. What are your thoughts on this?
I see it as extremely positive. As TfS members, we're all working to bold ambitions and a shared understanding of the challenges we need to address as an industry and each member brings unique experience and expertise. The opportunity to bring together this collective knowledge and insight to drive change from within offers agility and impact.
Q: Where do you see yourself contributing to the TfS initiative, also taken your sustainability expertise into account?
I will be championing the initiative through both the procurement and sustainability functions but also across the wider organisation, clearly demonstrating how this work relates to our purpose commitments.
As a business, we look forward to contributing through our industry-leading sustainability approach, through the direct involvement of our procurement function, through our experienced and committed Responsible Sourcing team and through providing expert resource to support the Scope 3 workstream activities.