A very busy time for TfS China with new activities and increased impact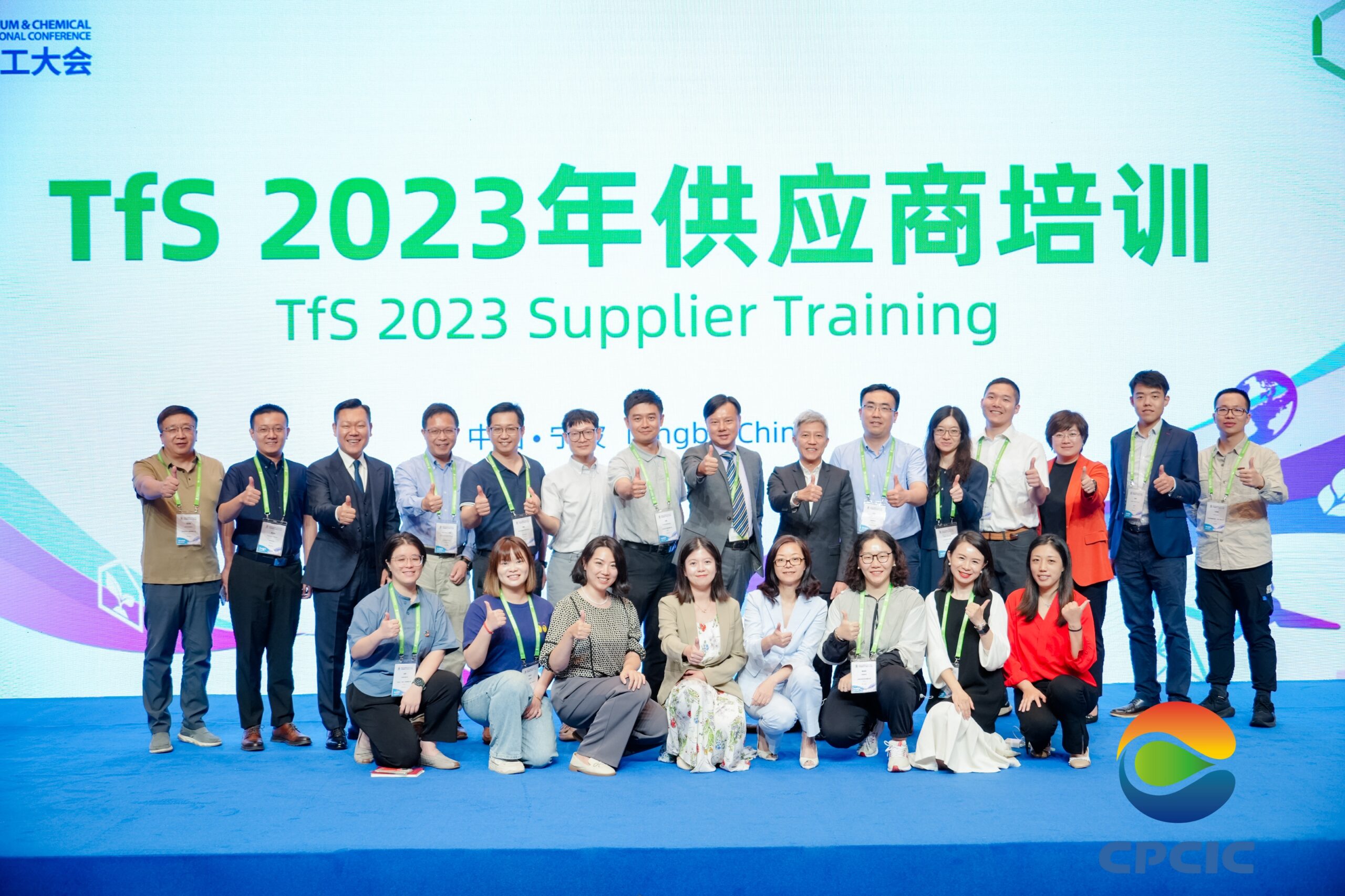 In the past few months, the TfS China Committee and its Chinese member companies have been active in promoting TfS from various dimensions and committed to building sustainability capacity of industry and suppliers. It can be summarised as: 3-3-5-30, namely: two important supplier trainings, three in-depth exchanges with the TfS initiative, interaction with five potential Chinese member suppliers and 30 WeChat articles in 2023.
3 Trainings
On September 14, the online Supplier Training 2023 Part 2 – EcoVadis Corrective Actions was held. The training involved speakers from Lonza, AkzoNobel, and LANXESS; 498 people had registered and app. 200 people participated in the training.
On September 20, TfS successfully held its "2023 Supplier Training event" as part of the 14th China Petroleum and Chemical International Conference (CPCIC) in Ningbo, attracting over 200 attendees. In addition to advanced training on online questionnaire assessments and onsite audits, the training event focused on issues related to Scope 3 greenhouse gas (GHG) emissions, including a detailed presentation on Product Carbon Footprint (PCF) calculation and data-sharing solutions.
On October 26, the Train the trainer session was held at BASF China which focused on LCA fundamentals and PCF guideline introduction. More than 10 representatives from TfS member companies joined on site in BASF Chian, and 20 joined online.
3 Exchanges with the TfS initiative
On May 19, TfS and the China Petroleum and Chemical Industry Federation (CPCIF) jointly held a workshop on the Product Carbon Footprint Guideline (PCF Guideline) in Ningbo. Representatives from selected TfS member companies were invited to share their experience using the Guideline; and discuss the future of sustainable development in the chemical industry with industry experts, scholars researching carbon emissions, and members of media.
On August 1, the China Petroleum and Chemical Industry Federation International Exchange and Foreign Enterprises Committee (Foreign Investment Committee) Carbon reduction and carbon neutrality research group held a meeting in Beijing. The aim of the meeting was to further support the petrochemical and chemical industry's inclusion in the special research on China's carbon market, and help chemical enterprises understand the progress of China's carbon market construction policy. Representatives of the TfS China Working Group were invited to participate in the exchange and the TfS member company BASF shared the use of the TfS Product Carbon Footprint Guideline and the practices of product carbon footprint management.
On August 23 TfS partnered with the China Automotive Technology & Research Center (CATARC) to jointly host a sharing session on TfS' Product Carbon Footprint (PCF) Guideline. The session provided a detailed introduction to the Guideline as well as its application and use in the chemical industry over the past year. TfS member companies had an online dialogue with CATARC experts about case studies of chemical industry products 'carbon footprints.
 5 Potential Chinese members – development
In the second half of 2023, the TfS members' purchasing team started to proactively approach potential members.  We started with influential key suppliers of member companies and selected suppliers with excellent sustainability performance as potential candidates for TfS membership. In the past few months, we have had in-depth communication with the senior management of five Chinese chemical companies, who are all Chinese suppliers with good sustainability performance and have also expressed strong interest and willingness from the top of the company to join TfS.
30 WeChat articles
By the end of October, TfS China had more 30 articles published in WeChat account, and the total number of followers is up to 4324. The influence of TfS in China has been growing more and more. TfS is ready to become  a shining name card of Chinese chemical sustainability.
Author:
Rolinst Li, Wacker, Regional Chair Asia