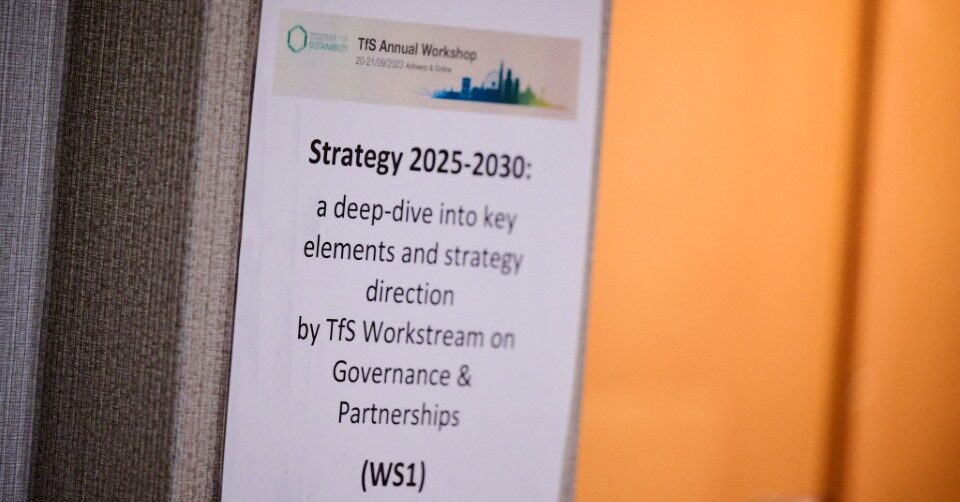 Now that we have passed the halfway mark of the Grow & Delivery Strategy 2025, it is a good time to reflect on all that we have accomplished in the past few years. We have gained a wealth of shared knowledge, and expertise, and have experienced growth both in our global landscape and working direction. Congratulations on our achievements so far!
Now that our membership has reached 50, it is becoming increasingly clear that TfS needs to determine the strategic direction we would like to follow as members, identify which areas and topics we want to collaborate on to have the greatest impact and consider how these changes will affect our current governance and working structure.
The TfS Strategy 2025-2030 project is based on a set of open questions. Work Stream 1 (WS1) named "Governance and Partnerships," along with the TfS Office and Kearney, will lead this project for the next few months. The objective of this project is to analyse the current sustainability initiatives and actions in the field. We appreciate the contribution of Janet Lung Standing from Johnson Matthey, who has offered her time and effort to be the CPO sponsor of the project and guide the team during the coming months.
All TfS members and CPOs will have the opportunity to share their inputs and thoughts through surveys and one-to-one interviews. After conducting several workshops and focus groups, which includes an extended project team comprising Work Stream and Regional Team members, as well as CPOs, a preliminary proposal of the strategy will be developed in early 2024. This proposal will undergo the first review by the TfS Steering Committee and be presented to the TfS General Assembly in June next year.
At the TfS Annual Workshop held in Antwerp last September, WS1 led two successful breakout sessions to gather first thoughts and inputs on the next strategy. On the first day, WS1 introduced our ongoing projects and discussed how to improve them in line with the current strategy. The day concluded with a session on beneficial activities and KPIs. On the second day, the focus was on the new strategy, including an introduction to the project, a timeline and an interactive session to understand stakeholder involvement and applicability considerations.
These past two days at the TfS Annual Workshop were very fruitful, providing insightful learnings that laid the foundation for the beginning of the TfS Strategy 2025-2030 project.
For active involvement in focus groups, please contact Virginia Morton, WS1 Chair, and Morne Labuschagne, or Sascha Ceylan, WS1 Co-Chairs.
Author:
Virginia Morton, Sika, Chair TfS Work Stream 1 "Governance and Partnerships"