The TfS Interview: Bayer CPO Thomas Udesen, Addressing PCF in the spirit of collaboration
The philosophy and the aspiration here is that if the chemical industry is able to make something simple, implementable and practical, this will have a positive impact on other industries.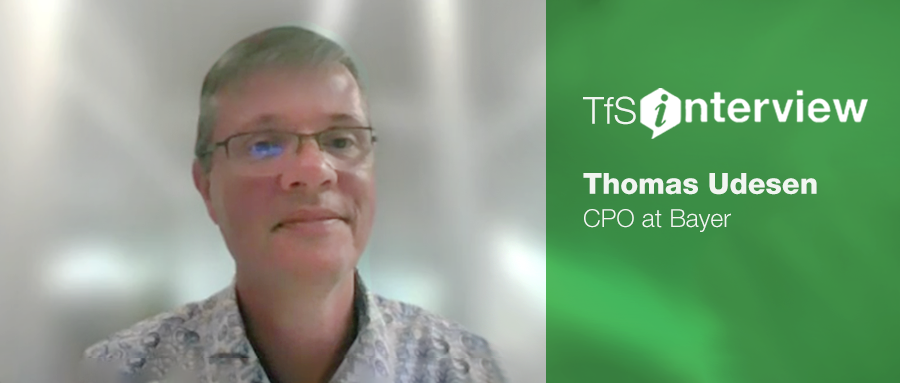 TfS is launching a series of interviews with key stakeholders within and beyond the TfS community. The purpose is to delve into topics of interest to TfS and to look for fresh perspectives, from a wider angle.
TfS plans to officially release its Product Carbon Footprint (PCF) calculation guideline for chemical suppliers in the second half of this year. To this end, we invited Thomas Udesen, Chief Procurement Officer of Bayer, who plays an important role in TfS' Workstream 5 – which focuses on Scope 3 GHG emissions -, to share the behind-the-scenes story of the development of the TfS Product Carbon Footprint Guideline (PCF Guideline) and his vision for a sustainable future in the chemical industry. Watch the interview here.
As a world leading life science company and one of TfS' founding members, Bayer has played a constructive role in advancing sustainability. Can you share some of Bayer's best practices in reducing carbon footprints from a procurement perspective?
Let's start with a historic context. We were one of the first companies that signed the UN global compact back in 2000. In two decades, some of the best practices include our CEO being our Chief Sustainability Officer. There is a very clear commitment from the very top, and this is a topic that is integrated into our strategic framing of the organization.
We were also one of the first companies that signed the science-based target initiative and committed to the 1.5°C scenario under the Paris Climate Change Agreement. One of those levers that we have activated is a complete transformation of our energy consumption towards renewables by 2030.
These are achievements that I'm proud of. We're focusing on topics like Scope 3 emissions, CO2, PCF where TfS is a leading institution. These are the next generation of best practices that we are hoping to get to.
With growing awareness of Scope 3 emissions, what do you think are some of the major challenges in promoting the PCF calculation method or standard across the industry?
We can see a parallel between what we experience now with Scope 3 and PCF calculations versus assessments that started 10 or 15 years ago. One of the underlying challenges is that there are many players who also see economic benefits of leveraging their own unique space. There are forces preventing us from creating a standardized methodology that everybody can just plug and play. We need to recognize that it exists because there is motivation to speed a bit more self-serving than what TfS is doing. Our intention is to make all of these available to the world then we can focus on the impacts and activities, and the implementation of all our plans.
Can you briefly introduce how TfS developed the PCF Guideline?
I think the clue lies in the name of TfS – Together. That's exactly what we did with the PCF calculation. Various members of TfS were asked to join the Work Stream 5 to share their best practices. Teams came together looking at: What is it that we do?  What do we think is meaningful? How do we make it pragmatic and implementable, and as simple as possible?
They jointly created a pilot where we went to our suppliers across the world, including many of them from China. We then ask for feedbacks: Is this good enough? Is it simple enough? Can you work with this? Would you consider that this is something that we can scale up at an industrial level? The feedbacks were incorporated into the guidelines which will be ready for launch mid-September. We will listen and make sure it's feasible so that it can be implemented rather than ending up in the paralysis.
As you and your team develop the Guideline from a framework adopted by one or a few companies to something that can be applicable to an industry, a region, and even globally, are there any challenges you met? How did you tackle these issues?
In the spirit of collaboration, we are moving from an ego-centric approach to an eco-centric approach. We have all committed to bringing all the knowledge we have to the table and finding a solution that works for everybody. With 10 years of practice, we always want to make sure that we are in a way of giving away our individual preference for the collective good. With greater maturity across the organization – we now have 37 members – we feel very proud that we have created something where we are looking at the overall good and not only what's good for our member companies individually.
We are very excited to start rolling it out as of mid-September and make sure that we can improve as we go along. The philosophy and the aspiration here is that if the chemical industry is able to make something simple, implementable and practical, this will have a positive impact on other industries.
We do hope that this will be a standard in other industries, especially downstream industries that are struggling to establish their standards. We have connected and collaborated with a lot of those multipliers who are trying to do exactly that (outreach), so that the methodology will be available to the masses. We are ready to launch, we are ready to engage, and we are ready to be together, to change the world and become more sustainable.
Moving forward, what is your vision for the PCF Guideline in the next 3 to 5 years? Are there any plans to promote this at a global level? Are there any mechanisms in place for Work Stream 5 to continuously improve the guidelines or develop more advanced calculation methods based on the guidelines?
We are part of an ecosystem where there are lots of great work that's helping us to accelerate the impact. We want to make sure that these partnerships are nurtured, and we have the dialogue to help us understand what are the next steps that need to be put in place.
But first, we want to get into capacity building to make sure we all understand how we do it; how do we make sure data is being shared in a way that respects data privacy and the interest of our suppliers. After that, how do we create an impact? What we can do to introduce new technologies as well as to drive impact?
We are very proud to have the established (guidelines) for the chemical industry, hopefully applies to all our members across the world, and all our suppliers step-by-step.
PCF calculation entails information about a company's core product manufacturing processes and technology. Therefore, many suppliers are reluctant to report their PCF due to confidentiality concerns. Does the PCF Guideline have any supporting data privacy policies and protocols to address this concern?
 We picked up on many of these particularities that we need to respect like the regulatory frames that we need to make sure we are operating within. One important topic is data privacy, which we are very conscious about, and it is being interpreted slightly differently across the world. That's also why the infrastructure we are putting in place is set up in such a way that the suppliers really have the right to choose about who gets to see the data, and in what manner is it being shared across the broader community, including the members who have access to it. We want to make sure that the data is managed such that the suppliers can retain control and the data sits with them.
 Any closing remarks?
We've seen the emergence of the Chinese chemical industry. Many of us are very dependent on it and we have seen a gradual maturity. Our partnership with China Petroleum and Chemical Industry Federation ()  has helped us get access also to small and medium-sized enterprises. We've reached out to them through joint training and capacity building and making sure that the topic of sustainability is well understood.
We now have two Chinese members – Wanhua and Sennics, the pioneers within the Chinese realm, making sure that the voice of China is heard. The industry needs to be infused into our future solutions.
We are still hopeful and convinced that we will be able to tackle enormous challenge around de-carbonization, then to create a positive impact on future generations. This is the most important part of anybody's job – leaving a planet for future generations to enjoy. PCF is a milestone on that journey.
The PCF Guideline will be available by mid-September. Click here for more information.
TfS will continue to leverage its influence in the industry, focus on every part of the chemical supply chain and work with colleagues in the chemical industry to build together a sustainable chemical supply chain. Stay tuned for our next in-depth conversation with industry experts.