Storytelling – Our journey on carbon together with our suppliers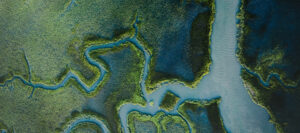 With our Work Stream 5 "Scope 3 Greenhouse Gas (GHG) Emissions" and commitment to the Product Carbon Footprint (PCF), TfS has sent an important signal to the market that carbon emissions are the focus topic of our member companies. But of course, the PCF Guideline and the calculation of the PCF is not the only puzzle piece that our suppliers need in their development.
Since EcoVadis also offers different modules on carbon emissions, we have tried to make an understandable storyline for our suppliers about where to start and which tool can be used for what.
The main points that we would like to share with our suppliers are the following:
OUR STORY
First, we need to tell our suppliers why greenhouse gas (GHG) emissions are important to us:
Together for Sustainability (TfS) counts 47 member companies and all members have collectively made reducing GHG emissions a key focus area.
As chemical companies, the greatest share of our GHG emissions arises from indirect sources, with a significant contribution from the upstream supply chain (raw materials – Scope 3 Category 1). Only if we work together on this critical matter with all trading partners, up and down the value chain, can we significantly reduce emissions and limit global warming to less than 1.5°C.
Then, we focus on the role of the suppliers: 
As one of the 13,500 TfS Initiative supply chain partners sharing information about your sustainability performance through the EcoVadis platform, we count on you to join us on our decarbonisation journey.
Consistently, we describe our common journey: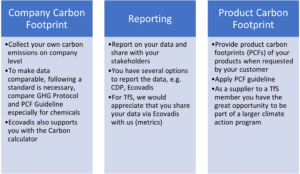 Every journey starts with small steps. Of course, we are already setting sail for product carbon footprint exchange, but the basic first step is to be aware and collect your own scope 1 and scope 2 emissions. So please start by entering your scope 1 and scope 2 data in the platform so that all TfS members can access them collectively. In addition, we encourage you to share your GHG emissions via metrics, which is no extra work for you, as you include the data that is already in your scorecard and sharing can be activated with the publish button.
We can only improve what we can measure.
At the end we inform about further information tools:
For more information on carbon accounting, please see our TfS Academy, the EcoVadis e-learning Academy, and the TfS Product Carbon Footprint Guideline.
HOW YOU CAN USE THE STORY
Of course, this outline can be used in individual conversations with your supplier. In addition, we will include it in various documents that can be shared with the suppliers, e.g. the onboarding material.
To make you even more familiar with this storytelling and the planned measures around it, we will have a joint webinar with EcoVadis in September. The invitation via Work Stream 2 will follow soon.
Author: Sabine Zallinger, Wacker, Co-Chair Work Stream 2 "TfS Assessments"