Indorama Ventures, Johnson Matthey, Nouryon, and Tricon Energy join Together for Sustainability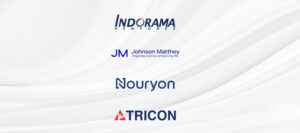 Together for Sustainability (TfS) announces that Indorama Ventures, one of the world's leading sustainable chemical companies headquartered in Thailand, Johnson Matthey, a global leader in sustainable technologies (UK), Nouryon, global, specialty chemicals producer (US) and Tricon Energy, a leader in the global trade and distribution of chemicals have joined the TfS initiative for sustainable supply chains, bringing the number of TfS member companies to 47. The arrival of the new members highlights the increasing importance of TfS leadership in driving and delivering sustainability in chemical industry supply chains. Against the backdrop of the need to decarbonise and increasing regulatory requirements, TfS provides the chemical industry with innovative solutions to enable supply chains to make a significant contribution to the company's overall sustainability and resilience performance.
Bertrand Conquéret
President, Together for Sustainability
"I am proud to welcome Indorama Ventures, Johnson Matthey, Nouryon and Tricon Energy to the TfS family, bringing the number of TfS member companies to 47. The accelerated growth of TfS membership reflects TfS leadership in driving and delivering sustainability improvements in supply chains around the world. Given the tighter regulatory landscape, the need to decarbonise industry, and market conditions, TfS – together with its partners – provides innovative responsible sourcing solutions to make supply chains and businesses more sustainable, collaborative and resilient and contribute to the development of a better world."
Yash Lohia
Chairman of the ESG Council, Indorama Ventures
"Sustainability is a journey to be taken together within and across supply chains and industries. At Indorama Ventures, we put partnership and collaboration at the core of our sustainability strategy. We are proud to join Together for Sustainability and stand amongst our peers within the chemical industry to strengthen our collective decarbonization pathway, following our purpose of reimagining chemistry together to create a better world."
Janet Lung Standing
Chief Procurement Officer, Johnson Matthey
"We are committed to ensuring that our technologies and operations are as sustainable as possible. By joining TfS, we can work closely with our supplier partners to further strengthen the sustainability within our supply chain and reinforce our commitment to human rights in our value chain."
Stephen Hester
Vice President and Chief Procurement Officer, Nouryon
"Nouryon is pleased to become a member of TfS, as part of an industry group focused on the UN Global Compact and the sustainability commitments across our diverse supply chain. We anticipate our membership with TfS to offer Nouryon sourcing specialists the opportunity to both contribute as well as learn new ways that we can enhance our end-to-end supply chain to meet the increasing sustainability expectations of our customers and the end-markets we serve."
Ritesh Kothari
Director of Global Operations, Tricon Energy
"At Tricon, we are committed to improving our environmental and social performance and contributing to a more inclusive and circular economy. TfS provides a platform to mature our responsible sourcing program and engage the value chain on product carbon footprint. We look forward to collaborating with the chemical industry on this journey toward a net zero and sustainable future."
About Together for Sustainability (TfS)
Together for Sustainability (TfS) is a procurement-driven initiative created by chemical companies with the goal of assessing, auditing, and improving the sustainability practices within their supply chains. The programme is based on the UN Global Compact and Responsible Care® principles. TfS is a global organisation with regional representation in Asia, North and South America.
TfS develops and drives innovative responsible sourcing solutions through the global chemical industry.
The 47 TfS member companies represent a global turnover in the chemical industry of over €600billion and a global spend of over €400billion.
Media contact
Maria De Rycke | Communications Manager | M +32 498 246063
Maria.derycke@tfs-initiative.com
Indorama Ventures (IVL)
Indorama Ventures Public Company Limited, listed in Thailand (Bloomberg ticker IVL.TB), is one of the world's leading petrochemicals producers, with a global manufacturing footprint across Europe, Africa, Americas, and Asia Pacific. The company's portfolio comprises Combined PET, Integrated Oxides and Derivatives, and Fibers. Indorama Ventures products serve major FMCG and automotive sectors, i.e., beverages, hygiene, personal care, tire and safety segments. Indorama Ventures has about 26,000 employees worldwide and revenue of US$18.7 billion in 2022. The Company is listed in the Dow Jones Emerging Markets and World Sustainability Indices (DJSI). For more information visit www.indoramaventures.com
Media contact
Stuart Kelly | Group Head of Communications | T +66 2 661 6661
 About Johnson Matthey
Johnson Matthey is a global leader in sustainable technologies, catalysing the net zero transition. With over 200 years of sustained commitment to innovation and technological breakthroughs, we improve the performance, function and safety of our customers' products. Our science has a global impact in areas such as low emission transport, energy, chemical processing and making the most efficient use of the planet's natural resources. Today, about 13,000 Johnson Matthey professionals collaborate with our network of customers and partners to make a real difference to the world around us. For more information visit www.matthey.com
Media contact
Email: jmpr@matthey.com | T +44 207 269 8001
 About Nouryon
Nouryon is a global, specialty chemicals leader. Markets and consumers worldwide rely on our essential solutions to manufacture everyday products, such as personal care, cleaning goods, paints and coatings, agriculture and food, pharmaceuticals, and building products. Furthermore, the dedication of more than 7,900 employees with a shared commitment to our customers, business growth, safety, sustainability and innovation has resulted in a consistently strong financial performance. We operate in over 80 countries around the world with a portfolio of industry-leading brands. Visit our website and follow us @Nouryon and on LinkedIn.
 Media contact
Emily Parenteau | Senior Director Corporate Communications | T +13142296359
About Tricon Energy
With over 27 years in business, Tricon is an industry leader in the global trade and distribution of chemicals. Our purpose is to efficiently and sustainably connect the world with essential goods. We do that by providing logistics, financing, risk management, market intelligence, distribution, and technical support to thousands of business partners in over 120 countries.
Learn more: www.triconenergy.com
Media contact
Elizabeth Carlson | Chief Sustainability Officer