Together for Sustainability welcomes three new members!
TfS is very pleased to announce that allnex, IMCD Group and Lonza Group, have joined the TfS initiative for sustainable supply chains.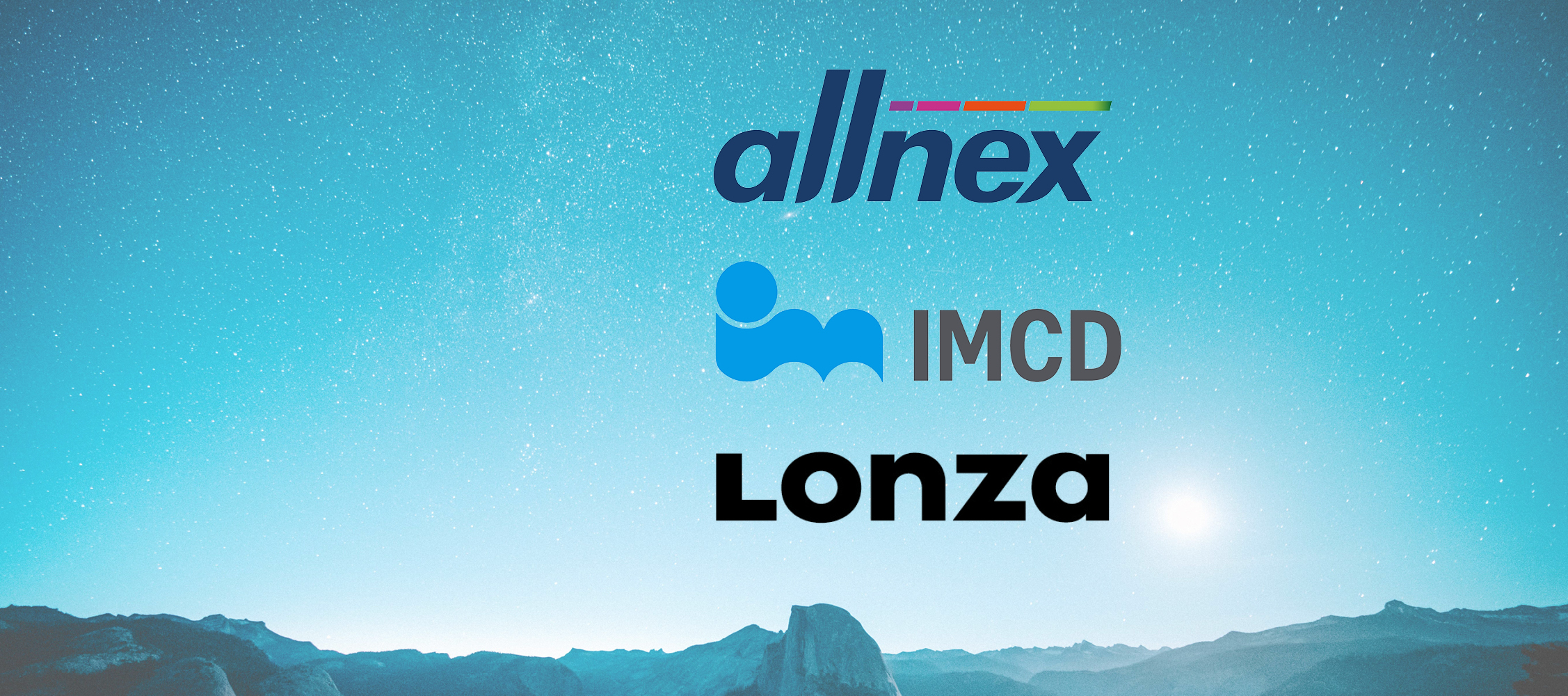 Together for Sustainability (TfS) is very pleased to announce that allnex, a leading producer of coating resins and additives, headquartered in Frankfurt, Germany, IMCD Group, a Dutch formulator and distributor of specialty chemicals, and Lonza Group, a Swiss-based global manufacturing partner to the pharmaceutical, biotechnology and nutrition sectors, have joined the TfS initiative for sustainable supply chains. The TfS member company count is now 40. The increase of membership confirms TfS' leadership position with regard to driving and delivering sustainability through the chemical industry's supply chains. Against the backdrop of the climate challenge and growing regulatory requirements, TfS offers the chemical industry innovative solutions to make supply chains a key contributor to the overall corporate's sustainability performance.
Bertrand Conquéret
President, Together for Sustainability
"I am very proud to welcome allnex, IMCD Group, and Lonza to the TfS family, bringing the TfS membership to 40 companies. Together and with our strategic partners we continue to expand our reach and increase our impact on the sustainability performance in chemical supply chains around the world. Given the regulatory landscape, climate challenges, and market conditions, the need for sustainable businesses only intensifies. TfS is the crucial enabler to make supply chains and businesses at large more sustainable and resilient, and contribute to developing a better world."
Miguel Mantas
CEO, allnex
"We are very proud and excited to join the TfS family, a circle of industry partners united by one common goal: to address industry challenges and make sustainable improvements along the entire value chain. Participation in TfS allows allnex to strengthen its supplier sustainability activities and, together with our partners, shape the future of the chemical industry for all nex(t) generations."
Marcus Jordan
Chief Operating Officer, IMCD
"Creating a more sustainable future not only for our business partners but for society, is one of our ambitions as a leading speciality chemicals distribution partner. By joining Together for Sustainability, we reaffirm our commitment to improve our sustainability practices within our operations and the operations of our suppliers. Together with our supply and customer partners, we will continue to seek new ways to reduce our environmental footprint by offering products and solutions that contribute to a better society."
Geert Van Acker
Head of Global Procurement, Lonza
"As a global strategic partner to the healthcare industry, the procurement and handling of chemicals is critical to our supply chain. We are focused on enabling a healthier world by supporting customers to bring medical treatments to life, and by building sustainability into the heart of our business model. By becoming a member of the TfS initiative, we can now unlock greater insight into sustainability performance across our supply chain, alongside trusted tools to accelerate the pace of change."
About Together for Sustainability (TfS)
Together for Sustainability (TfS) is a global, procurement-driven initiative created by chemical companies with the goal of assessing, auditing, and improving the sustainability practices within their global supply chains. The program is based on the UN Global Compact and Responsible Care® principles and has grown into a global organization with regional representation in Asia, North and South America.
Current TfS member companies are ADVANSIX, AKZONOBEL, ALLNEX, ARCHROMA, ARKEMA, AZELIS, BASF, BAYER, BRENNTAG, CABB, CHEMOURS, CLARIANT, CORTEVA, COVESTRO, CRODA, DOW, DSM, EASTMAN, EVONIK, GIVAUDAN, HENKEL, ICL, IFF, IMCD, KRATON, LANXESS, LENZING, LONZA, LYONDELLBASELL, MERCK, MITSUI, OMV, SEMPERIT, SENNICS, SIKA, SOLVAY, SYNGENTA, UPM, WACKER, and WANHUA.
TfS member companies represent a global turnover in the chemical industry of over €600billion and a global spend of over €400billion.
https://tfs-initiative.com/
Follow TfS on LinkedIn and YouTube
Media contact
Maria De Rycke | Communications Manager | M +32 498 246063
Maria.derycke@tfs-initiative.com
About allnex
A global company with over € 2.4 billion revenue, allnex is a leading producer of coating resins and additives for architectural, industrial, protective, automotive and special purpose coatings
and inks. With manufacturing facilities and R&D centers located around the world, the allnex group offers access to a huge global network of innovation and provides responsive, local support to our customers, helping them to quickly bring advanced coating solutions to market. Formed in 2016 by the merger of two leading resin companies, we've recently further strengthened (y)our business and reach by becoming part of major international player PTT Global Chemical.
Media contact
Daria Samonova | Corporate Communications Manager | M + 49 15121129131
Daria.Samonova@allnex.com
About IMC Group
The IMCD Group, based in Rotterdam, the Netherlands, is a global market leader in the marketing, sales, and distribution of speciality chemicals and ingredients. Its result-driven professionals provide market-focused solutions to suppliers and customers across EMEA, Americas and Asia-Pacific, offering comprehensive product portfolios ranging from home, industrial and institutional care, beauty and personal care, food and nutrition and pharmaceuticals to lubricants and energy, coatings and construction, advanced materials, and industrial solutions.
The IMCD Group realised revenues of EUR 3,435 million in 2021 with more than 3,700 employees in over 50 countries. IMCD's dedicated team of technical and commercial experts work in close partnership to tailor best-in-class solutions and provide value through expertise for around 56,000 customers and a diverse range of world class suppliers.  IMCD shares are traded at Euronext, Amsterdam (IMCD).
Media contact  
Maribel Rodriguez | Senior Group Communications Manager  | M +31 6 1479 6610
mediarelations@imcdgroup.com
About Lonza
Lonza is a preferred global partner to the pharmaceutical, biotech and nutrition markets. We work to enable a healthier world by supporting our customers to deliver new and innovative medicines that help treat a wide range of diseases. We achieve this by combining technological insight with world-class manufacturing, scientific expertise and process excellence. Our unparalleled breadth of offerings enables our customers to commercialize their discoveries and innovations in the healthcare industry.
Founded in 1897 in the Swiss Alps, today, Lonza operates across five continents. With more than 17,000 full-time employees, we comprise high-performing teams and individual talent who make a meaningful difference to our own business, as well as to the communities in which we operate. The company generated sales of CHF 3 billion with a CORE EBITDA of CHF 987 million in H1 2022. Find out more at www.lonza.com.
Follow @Lonza on LinkedIn
Follow @LonzaGroup on Twitter
Media contact